Vertical is one of the most popular gardening types. It is not only decorative, it is also fun. Vertical gardening is extremely amusing and way easier than traditional ground gardening. Thus, there is no wonder it became a very popular and widespread trend.
There are many ways of vertical gardening. The easiest and the most effective way is to grow plants on trellises. However, not all plants can grow and thrive on trellises. Therefore, in order to help you have a beautiful vertical garden, we included in this article a list if the most adorable trellis plants that you can grow. These plants will grow easily on trellises. Scroll down to take a loo them.
1. Vining nasturtium 
Vining nasturtium is one of the trellis plants. This climbing flowering plant is one of the most decorative plants. It will make your garden not only colorful but also joyful. This plant has unique flowers. Its flowers beside being very attractive and eye-grabbing, they are also edible. There are many varieties of Vining Nasturtium and all of them are perfect for trellises.
2. Black-eyed Susan vine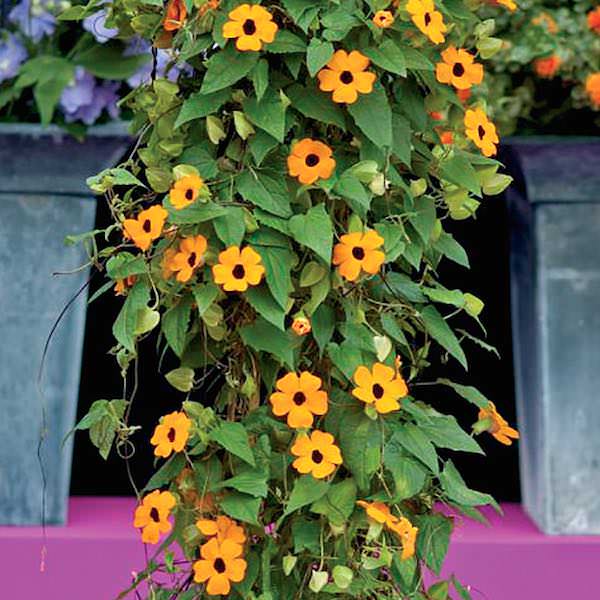 This beautiful ornamental plant is very flexible. It can be grown on a trellis, in a container or in a garden. However, since it is a climbing plant, it is better to grow it on a trellis. This low-maintenance plant requires full sun to thrive. Once it thrives, it will add so much beauty to your garden. It is an ideal decorative choice.
3. Morning glory
This is one of the most beautiful trellis plants if it is not the most beautiful one. Morning glory is an adorable plant. It is extremely attractive and elegant. It has a unique alluring color that makes it very popular. Its color draws attention.
Morning glory is also a tough plant. It does not require much attention and it can grow perfectly in both sunny and shady locations. Being that low maintenance increased its popularity.
4. Sweet Pea
Sweet Pea is not only a decorative climbing plant that grows on trellises, it is also a fragrant plant. In fact, it is one of the best pleasant smelling plants. Although they are not difficult to grow, they require certain conditions such as a cool temperature.
Growing Sweet Pea in your garden is highly recommended for two reasons. First, it is very beautiful and colorful. Second, it has a strong scent that will make your whole garden smells pleasant.
5. Petunias
Although it is not commonly grown on a trellis, Petunias is one of the most decorative trellis plants. It is a very beautiful and ornamental plant. It comes in different colors. It is an ideal choice to make your garden colorful and entertaining.
6. Jasmine
It is not surprising to find Jasmin on this list. This plant is one of the most beautiful and fragrant climbing plants. Jasmin is widely popular in different cultures and in different parts of the world. Growing Jasmin will not only give you a ravishing roayl garden but it will also make your garden smells refreshing. It releases an extremely sweet odor.
7. Bougainvillea
Unfortunately, not all of us are able to grow this adorable plant. This plant needs an extremely warm climate to grow. Gardeners who live in hot areas are lucky enough to enjoy the beauty of this ravishing plant. One of the unique features of Bougainvillea is that it remains covered by bright flowers pretty much year round.
8. Passionflower
Passionflowers are extremely ornamental trellis plants. However, just like Bougainvillea, they require a warm climate to grow. These plants are sun-loving plants. Being exposed to full sunlight is one of their major growth requirements.
9. Mandevilla
This flowering climbing plant once it is grown on a trellis, it will become an irresistible decorative item. It is fit to adorn both your indoor and outdoor. Although it is a heat-loving plant, many people grow it indoors because it is very decorative and attractive.
10. Climbing roses
Climbing roses are gorgeous trellis plants. They are widely used to decorate garden fences. If your garden or house fence looks boring, planting climbing roses will definitely transform it into an appealing beautiful fence. Most of the decorative fences around the world are adorned with climbing roses.
11. Wisteria
Wisteria is another amazing trellis plant that requires a warm climate. This beautiful alluring plant can't live without sunlight exposure. If you live in a warm zone, I highly advise you to grow this plant in your garden. It will make your garden fabulously beautiful.
12. Ivy
Ivies are distinguished by their beautiful foliage. They have an extremely charming green foliage. There are several varieties of Ivies and all of them are suitable to grow on a trellis. Ivy can be grown both indoors and outdoors. It is a low-maintenance decorative plant. Many people have it as a houseplant.
13. Trumpet Vine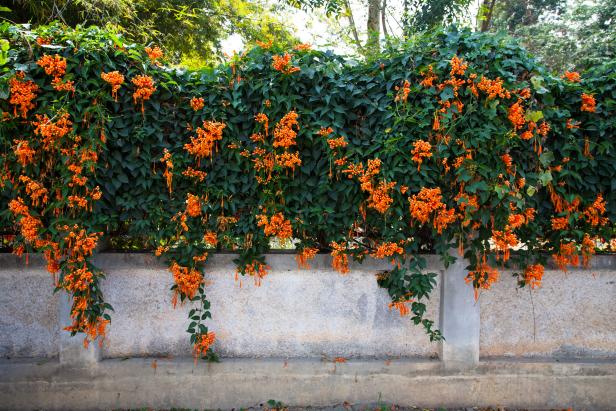 This trellis plant is the most favorite plant for pergolas and other tall vertical gardening structures. However, make sure that your structure is strong enough to hold the plant. Trumpet vine can grow big in a short time. Some gardeners consider it an invasive plant. Nonetheless, This plant is adorable. It beautiful and highly decorative.
14. Honeysuckle
Honeysuckle made it to the list because it is extremely easy to grow and to care for. This fast-growing climbing plant can grow perfectly on a trellis. It is also a tough plant that minds neither sunlight nor shades. It is an excellent choice to decorate your garden if you want a plant that does not require your attention.
15. Clematis
Clematis are not only excellent trellis plants but they are also excellent decorative plants. They are a perfect choice to embellish your outdoor. They come in different colors and they bloom at different times of the year. Thus, if you want to have an extremely unique blooming garden, you could grow different varieties of Clematis.
16. Cucamelon
It is quite normal that many of you didn't hear of this plant. It is not a famous plant and it was introduced only a few years ago. However, it is seen as one of the greatest trellis plants. Cucamelon is neither edible nor decorative. It is mainly grown to create a privacy screen or hide something unsightly in your garden.
17. Cucumbers
Growing cucumbers on a trellis is not common, yet, it is one of the easiest and best ways to grow this healthy vegetable. Cucumbers are fast growing climbers, they need support to grow straight up, trellises are the best support that they can ever get.
18. Squash and gourds
Squash and gourds can be grown on trellises as long as the trellises you use are strong enough to hold these heavy vegetables.  Growing them on trellises is better because it will keep them shielded from pests and diseases and they are vulnerable plants.
19. Peas
Peas are ideal plants to grow on a trellis. These vines are widely grown on trellises. Peas prefer shady spots, but, if you live in a warm climate, make sure that you choose a shady spot from them.
20. Pole beans
If you are looking for fast growing vine plants, then Pole beans are what you are looking for. They are among the best trellis plants. They are low-maintenance and they are very productive. If you love beans, you can learn how to grow Pinto beans and Garbanzo beans.
These are the best trellis plants. These plants will grow and thrive perfectly on trellises. Besides, they are low maintenance.
Enjoy growing your plants on trellises and don't forget to tell your friends about us.