Make the most of a small backyard with these space-saving decorating and gardening ideas.
Not everyone has a spacious backyard, but that doesn't mean you can't give your outdoor space its own unique flare. Check out our favorite ideas for amping up a smaller yard.
1
Tree Stump Planter
 If you've got an old tree stump in your backyard, rejoice—they make the most beautiful planters.
Blocks On The Rocks
 Use cinder blocks to create a small table or bar for your outdoor space, and use the holes in the blocks for planting. It's a 2-in-1 deal!
Hanging Colander Planter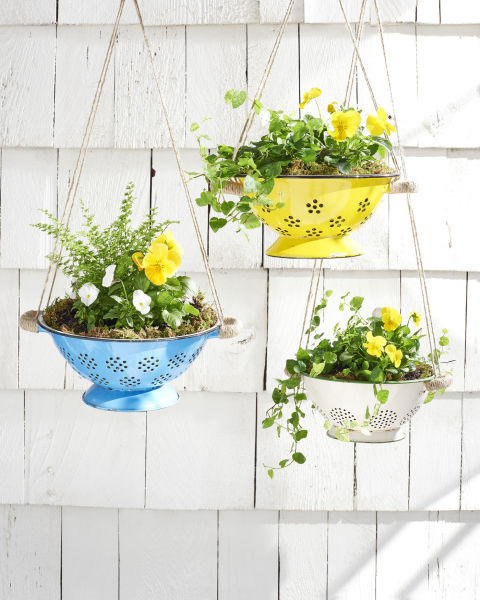 Hanging your plants leaves extra space below; plus, these colorful colanders make the most adorable vessels for flowers.
Pallet Flower Display
 Paint an old pallet and show off your favorite flowers near your front door or in a corner of your garden. The vertical display takes up very little space, and you can change out the flowers or decor with each season to keep things fresh!
Murphy Bar
 No room for a fancy bar? Try installing a Murphy bar outside, which simply folds down into a table whenever you're ready to use it! The shelves are perfect for storage, and you can stack cute plants on top.
6
Tiered Planters
Tiered planters will maximize the ground space you have available for planters and herb boxes.
7
Vertical Herb Garden
 Instead of planting horizontally, plant vertically! Use a wood trellis, tin cans, and IKEA pot hangers to recreate this look.
8
Faux-Grass Rug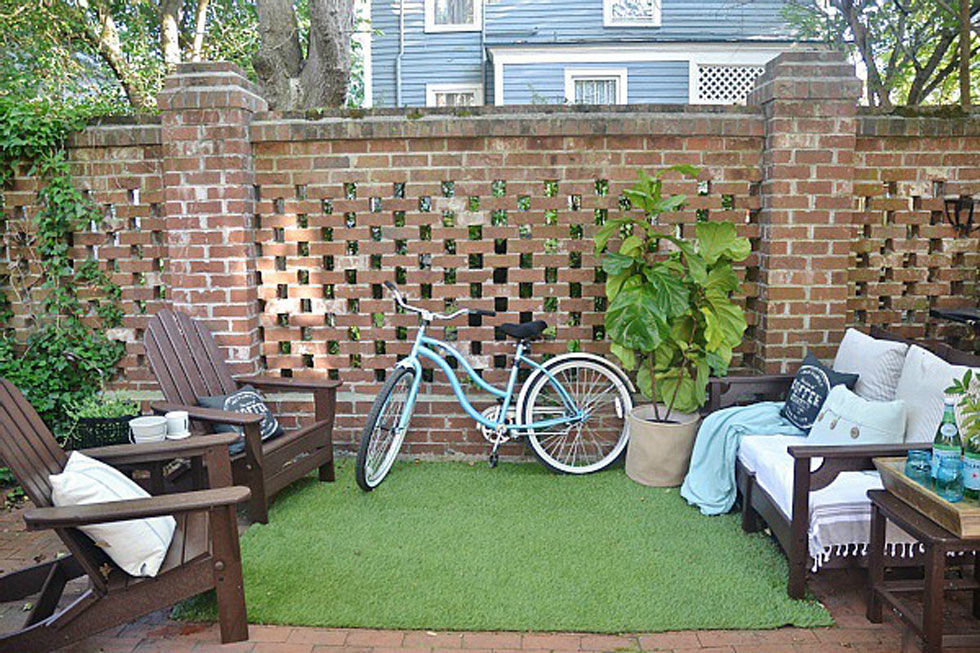 Offering the illusion of luscious green lawn, a faux-grass rug will help make your patio space look bigger than it really is.
Add Some Depth
 You can't change the size of your backyard, but you can make it seem larger than it actually is by using this neat trick: Hang a few vintage mirrors on your fence so they reflect the surrounding greenery.
Succulent Wall Art
 Use a rectangular plastic tray divided into planting cells to display an enchanting succulent garden like this one.
11
Coffee Can Planters
 We didn't need an incentive to drink more coffee, but now we're glad we have one.
12
Invert Your Tomatoes
13
Build an Herb Spiral
Plant your herbs in a spiral to fully utilize all the space you have.
14
Make It Mobile
15
Mason Jars
16
Stack Your Planters
17
Grow Mushrooms in an Old Laundry Basket
No need for a full kitchen garden with this super easy trick for growing your own oyster mushrooms.
18
Build a Mini Storage Shed
Repurpose old doors and windows into a cute mini gardening shed, just big enough for all of your essential tools.
19
Start Off Small
Terrariums are a great way to decorate any indoor or outdoor space—and they're super low maintenance.
20
Make a Small Water Feature
 Want a water feature, but don't think you have enough room to install one? Not anymore.
21
Hanging Garden
s
22
Modular Deck Tiles
If you don't have enough space for a built-in deck, these snap-in deck tiles ares the perfect solution.
23
Stack Up Crates
 Make your own vertical garden by stacking crates. Make sure to reinforce them with wood planks!
24
Dedicate a Corner
Use a rolling cart to hold a miniature herb garden that can be brought inside or kept outside.
25
Colorful Yarn